Help bring Hoboken back to 100%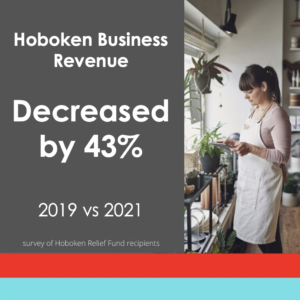 A survey of our grant recipients shows that business recovery is far from over. Revenue levels in 2021 are 43% lower than rates in 2019.
Please continue to shop local and donate to our fund, as the Hoboken Relief Fund rolls out programming for 2021 and 2022 to support this vital part of our community.
Click to securely donate via PayPal.
Or mail a check to the address below and make all checks payable to "Hoboken Relief Fund".
Hoboken Relief Fund Inc 
50 Harrison Street, Suite 522
Hoboken, NJ. 07030
Make checks payable to the "Hoboken Relief Fund".  The Hoboken Relief Fund is a pending 501(c)(3) entity.
David Bistany
Rotary Club of Hoboken
James Runkle
Hoboken Business Alliance
The Rev. Elaine Ellis Thomas
City/Arts Community Liaison
Geri Fallo
Hoboken Administrator of Cultural Affairs