Bring hoboken back to 100%
The Hoboken Relief Fund has a lot to celebrate! A year ago, our community started taking unprecedented steps to support each other.
Thanks to your acts of generosity, combined with those of your neighbors, we raised over $400,000 and that, in turn, provided much-needed financial support to so many local businesses and Hoboken residents. 
To accomplish all that in one short year is something to get excited about! So we're celebrating this summer, and then we want to keep right on going.
We want to bring Hoboken back 100%, and continue to build more each year. 
Even as Hoboken reopens this summer, businesses are still only operating at 60% of their revenue. This impacts all of us and that is why we are continuing our relief drive.
Can we count on your crucial support again? Will you join us in celebrating this milestone?
Join us for our second year and expand on your success. Make a donation and spread the word to your friends and neighbors about the work the Hoboken Relief Fund is doing. Let's continue to work together to bring Hoboken back to 100%.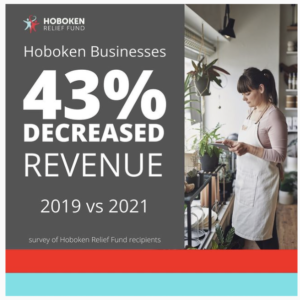 All Donations will be investments in our local economy. They will help small local businesses — the backbone of our community — get back on their feet as well as help the most vulnerable Hoboken residents, families in need and seniors. 
Click to securely make your tax-deductible donation via PayPal.
 Hoboken Relief Fund Update #7 (as of February 18, 2021):
Thanks to so many generous supporters of the Hoboken Relief Fund, to date we have received approximately $415,000 in donations to help support our local businesses and neighbors who have been negatively impacted by COVID-19. 
We processed approximately 165 small business and individual applications, and we have issued 88 grants, eclipsing $405,000.